Trak90 Mats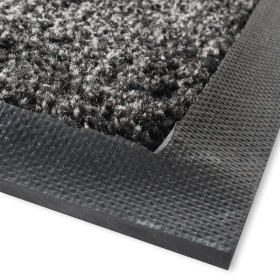 If you've been searching for a heavy-duty mat for your business, look no more!  At Swan we carry Trak90 mats which feature extra-course nylon fibers blended with traditional nylon carpet fibers.  This duo of fibers is designed to create excellent scraping and wiping action for maximum soil-stopping power.  Some of the other features of this mat include:
Superior Dirt-Stopping Power - Course nylon fibers scrape and wipe dust and dirt from shoes
Resilient - High-twist, heat-set nylon resists crushing to better trap dirt and extend the useful life of the mat
Fade Resistant - Solution-dyed nylon won't fade in sunlight or with repeated washing; impervious to bleach
Safe - Certified high-traction by the National Floor Safety Institute (NFSI)
Trak90s are perfect for entrances with high use of mobility equipment.  Furthermore, it also stops 'mat creep' on low pile commercial wall-to-wall carpet. 
Give us a call if you'd like one of our Sales-Representatives to provide a free quote.